Jafala - Jazz and Funk and Latin and ...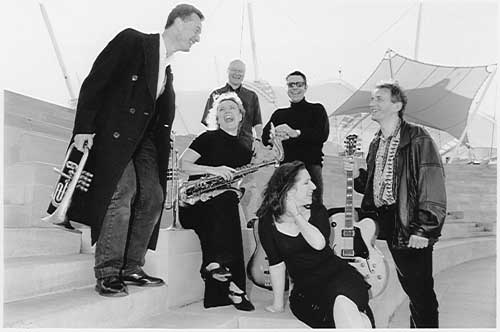 Jafala are a six piece vocal, trumpet, sax led band that play jazz, funk and Latin based music. Whether in a concert setting, a corporate event or function for dancing, or for background atmosphere they are adept at playing in exactly the right style and volume. Jafala also offer a total package on salsa with a dance team that teaches the audience all the basic steps. Having played together for over 10 years they know each other almost instinctively now and make it really swing - whether it is jazz, Latin or funk. They will spend time upfront talking to you to understand just what it is you want, and they will design a set list and arrangements to match it. Previous clients have included the if.comedy awards as televised on ITV2. Packages from £650.
To make an enquiry email bands@sloandrums.com or call 0131 665 1465 or 07932 365 926.
Hear Jafala
'Flirtin'
(Soul Funk)
'Bute'
(Latin)
'Autumn in New York'
Jazz Ballad
'Love for sale'
Latin Jazz
'Peel me a grape'
Jazz waltz
'Peaches for Ingrid'
Jazz original
'Sunshine around'
Jazz Funk original
Jafala Repertoire includes
Flirtin'
Soul funk original
Bute
Latin
Peel me a grape
Jazz waltz
Sunshine Around
Jazz funk original
Autumn in New York
Jazz ballad
Love for Sale
Latin Jazz
Corcovado (Quiet nights & Quiet stars)
Bossa nova
The Chicken
Soul funk
I can never
Jazz reggae
Song for my father
Funk reggae
Desafinado
Bossa nova
Marachino
Soul funk original
Honke Donke
Salsa original
All Blues
Funk
So what
Funk
Can't take that away from me
Funk
Night and day
Latin Jazz
Caravan
Funk Latin
God bless the child
Soul Funk
Rum and Chocolate
Latin
Black Orpheus
Latin
Oye Como Va
Latin
...
...